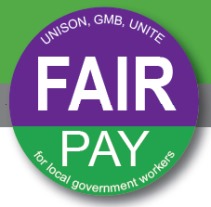 The claim is as follows
A single year claim
£1,000 flat rate payment
The introduction of a Living Wage with a minimum hourly rate of £7.20
Encourage Community and Voluntary organisations, ALEO's conditioned to the SJC to implement any settlement agreed.
It is not enough however to simply lodge the claim and hope that negotiations will prevail! We have to win the hearts and minds of our members as to why pay matters more than ever at this time.
Please go to Unison Scotland for all the information and campaign material..